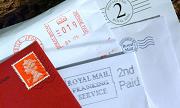 Letter / Email Communication Analysis
Routine letters or emails to consumers play an important part in a brand's communication interface - for consumers deciding on which brand or service to use, they often play a vital role in the overall comms mix.
Analysing the type of letters or emails sent to consumers in a particular sector reveals useful learnings - examples of best practise and ways to increase effectiveness.
Material for this analysis can be sourced from a representative sample of consumers or from material a client already has available.
This analysis may then be combined with further qualitative development research or quantitative development evaluation.