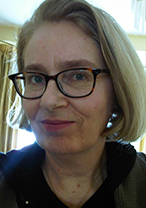 Sue Burden, Managing Director
Sue has a unique mix of brand and communications research and strategy experience – as a client, as an ad agency planner, as a research agency director and in
semiotics
– the analysis of communications symbols.
After a degree in French from Manchester University, Sue started in marketing with
Dairy Crest
, selling English cheese in France. She then moved to advertising, and became Planning Director for 5 years at
DMB&B
on Qantas, The Australian Tourist Commission, British Midland, Procter & Gamble, Scope, Texaco and Mars.
This connection led Sue to join
Mars
where she was European Research Manager for 7 years (2 years in France), working on M&Ms, Maltesers, ice cream, new product development and brand and ad tracking across Europe. In this role, Sue first started using semiotic analysis for brand development.
In 2002, Sue joined
Diagnostic Research International
, specialists in communications research, as Managing Director of their London office. Following a merger with Added Value, Sue became a Director of
Added Value UK
. At DR and Added Value, Sue worked on advertising and brand development for American Express, Expedia, General Motors, Motorola, eBay, Sky TV, Campbell's Foods and Harley Davidson.
In 2006, Sue moved to
TNS
to become Head of Brand & Communications Research. In this role, Sue was involved in many projects for TNS clients in the UK and internationally, including Nationwide, EDF, the COI, ibis, Kia, Nestlé, RBS, T-Mobile, Specsavers, Yell.com, SCA and Absolut Vodka.
In 2009 / 10, Sue was a Director at
IFF Research
, working on public sector brand and communications projects for the Department of Energy & Climate Change, the Intellectual Property Office, the Parliamentary & Health Service Ombudsman and the Association of Accounting Technicians.
Sue founded
Comms Savvy Research & Consultancy
in 2010. Sue speaks regularly at industry conferences and is a member of the Market Research Society Standards Board.