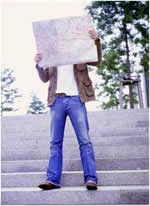 Advice on communications strategy / creative brief
The more thinking and planning that goes into the earlier stages of communications development, the greater the chances of success later on.
At this stage we are looking to define engaging new communication opportunities in terms of message content, semiotics and tone of voice that show potential to hook in the target audience both emotionally and rationally.
Depending on the level of existing knowledge and research insight, this advice could range from a review of communications options, the sector semiotics and any specific issues around a creative brief to a focused and rapid qualitative study designed to define the most promising communication territories for the creative team.
Research to guide the creative brief was pioneered by Sue Burden, following research she conducted with comms agency creatives, asking them which type of research they found most helpful. We call this type of research is called Early Stage Creative Development.